Matrimonial Event
The time comes when a person has to make a very important life-decision – finding a suitable companion for themselves, or their children. We realize that it can be very challenging to abide by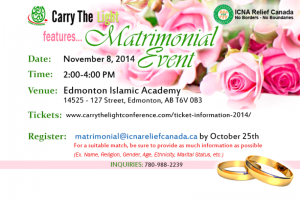 Islamic teachings and marry in North America. Often, the lack of contacts, job, ethnicity, age, family, culture, or proper guidance can pose daunting barriers.
For several years, ICNA Relief Canada has responded to this growing need by helping individuals find their right marriage partners in an Islamic way. We not only provide matrimonial services, but also offer guidance in selecting a spouse, as well as counselling within existing relationships. We are very careful in handling sensitive information and in preserving the confidentiality of our contacts.
Now, however, we have decided to launch our matrimonial services on a larger scale. In the past few months alone, we have connected many families from all over Canada and the success stories are flowing in. The wider Muslim community has appreciated this initiative and members are attending matrimonial events with enthusiasm.
For inquiries, please call 780-988-2239